SCADpro has collaborated with Lenovo to research and develop concepts for an educational experience for children centered around Science Technology Engineering Art and Math (STEAM) learning.
To support Lenovo's work of encouraging more diversity among the students considering STEAM careers, Lenovo is partnering with SCAD to create a computer educational experience that teaches children how to build a device and learn basic software programming.
I served as a user experience designer assisting in the primary and secondary research, concept exploration, visual design, user testing and presenting to key stakeholders.
For the course of the project, the project manager was Nicolas Pellegrino. After the project finished, he could not make it to the final presentation at Lenovo HQ. It was my honor to be selected as project manager and representative for the weekend of the presentation.
- SCADpro collaboration, SCAD Savannah


SCADpro from the Savannah College of Art and Design (SCAD) exists to generate design solutions for the world's most influential brands. SCADpro is an innovation studio that combines the brainpower of top students, alumni and professors to answer big business's biggest creative challenges.
Duration: 
10 weeks, Fall 2019
​​
Following this SCADpro collaboration, I received an employment offer from Lenovo.
I joined Lenovo as UX Designer on the UXD team after I graduated from SCAD in May 2020
We care about creativity for everybody
Our goal is to expose more children to STEAM and spark 
their interest in related career paths. We do this with the 
hope that it will encourage greater diversity in the industry.
How can we create a device to spike every child's interest in STEAM and build skills through a fun, educational, interactive physical experience, no matter their background?
Children's needs in education and Experience pillars
In and outside of the classroom, children have a distinct set of needs that are foundational for positive learning outcomes. These are things that need to be fulfilled before learning becomes effective- and maybe even fun!
Through our research and affinitization, a design framework was developed, one that Lenovo Play had to touch base with to allow every child to be creative. We found that children need a personalized experience, interactive play, a safe place to explore and representation within their learning curriculums. These needs became our 4 key experience pillars to help us ideate and design. 
Following extensive primary and secondary research, 5 archetypes were outlined. These archetypes captured our audience and helped us envision the application's features and feel.
Playing and learning are often considered as two separate actions.
After weeks of ideation and continuous refining, one clear direction stood out to our team. We'd love to introduce Lenovo Play, empowering children's imagination and creativity.
While appearing simple like any other block set, each block can radically change and morph into a multitude of different things on their computer screen or through an AR set. This allows for dynamic learning that constantly shifts depending on what the child is creating. The blocks could resemble wood and steel for them to construct a bridge for a car to pass over. Or maybe a rocket-ship they create themselves that can launch into space through trial and error of design. Even pieces of a computer that they build to see come to life before their eyes.
In support of our research on the importance of role models and parental support:
The companion app is designed to help parents and teachers engage with their learners and understand the value that Lenovo Play brings to their education.
For Teachers:
Teachers can find and assign activities from the game catalogue and view each student's progress to easily identify which students need more assistance. Teachers can also push messages to their learners' apps which the parents/guardians can also view.
​​​​​​​​​​​​​​
For Parents/Guardians:
Parents and guardians can view what activities their children are doing, how they are doing with these activities and how they benefit their learning in and outside of the classroom. They can also receive messages from teachers about alerts or updates on the learner's progress.​​​​​​​
When creating the digital experience, we wanted to make sure the Learner was not only engaged but actively invested in the learning process.
To help make this happen, we created an intertwined narrative to guide the Learner and add a dash of personality to the experience. This narrative took the form of the player-built hub world that grew in size and complexity as the Learner spent more time and completed more complex activities with the Play system. Additionally, the ability of the Learner to build their city hub out of custom made buildings, structures, and other elements was created to give the Learner the freedom to express themselves and their personality through their own style.
Children will use the blocks for construction and simulation based on the narratives and the games.
The embedded sensors inside the blocks will connect them to the tray to start the learning journey with the software. There will be an AR overlay on the blocks with live display that corresponds to the activities within the software. The material of the blocks will be light blue colored rubber resin. Children will be able to connect the blocks with ½ inches magnet balls, that allows the blocks to have full mobility and hence, would satisfy children's imagination. Each surface of the blocks is also magnetic making it easily to construct with different shape and provide stability.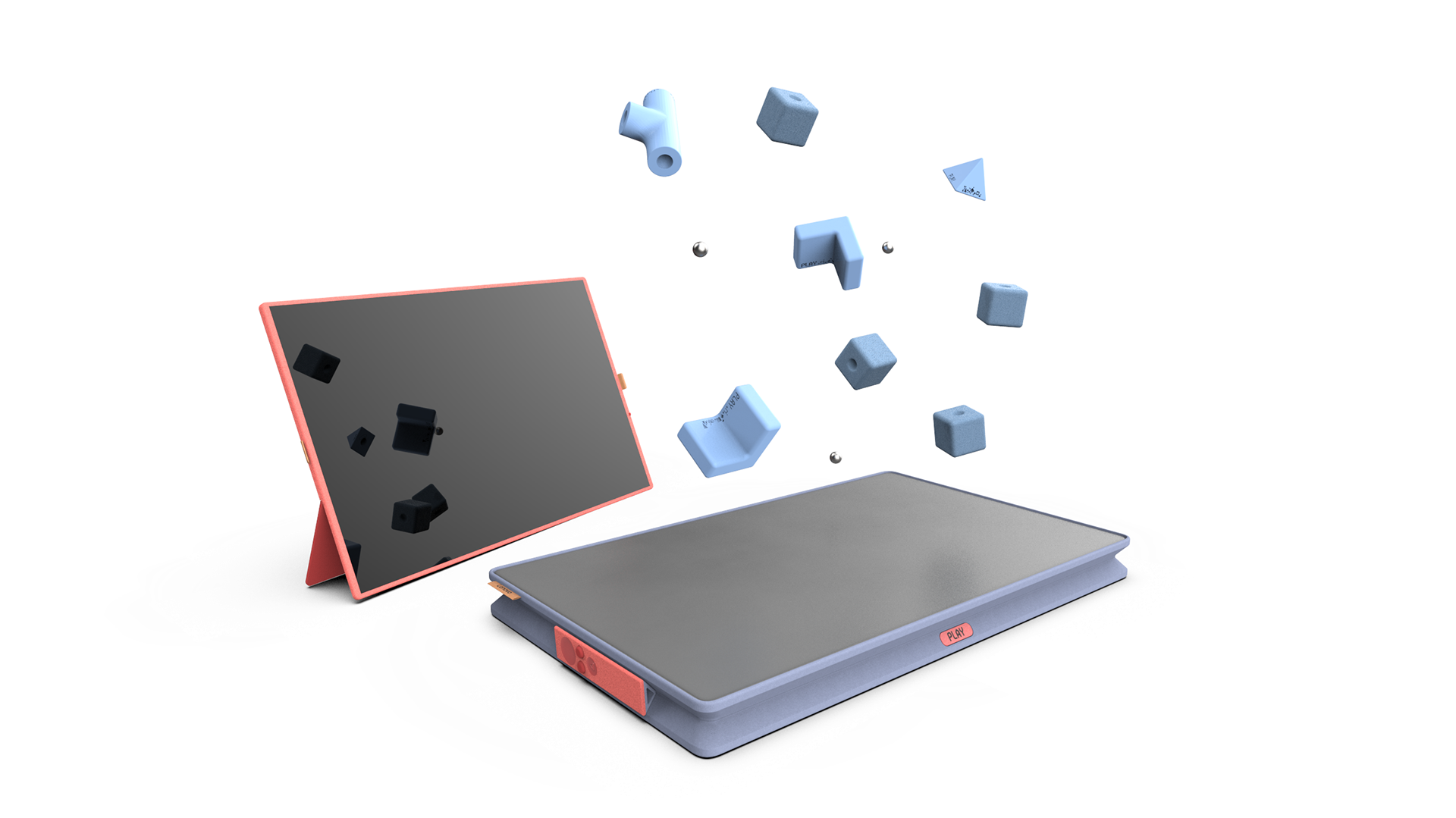 The tray is a physical area to build on top of to see your creations come to life! 
The tray gives you a beautiful pulse of light as confirmation that it is reading the blocks. Using a soft exterior, it is inviting; you want to hold it or place it on your lap. Located on the underside of the tray, there is a pull away screen you can use freely to view your building blocks for different games and activities! It uses Augmented Reality to turn your creations into something magical.
The idea behind the screen is to have a supplemental option for the kids to view the environment in.
We decided to make the AR goggles optional, and we don't want to assume that the user already has a screen of some form, so we included a moveable screen. The screen magnetizes into the bottom of the tray, allowing the user to simply pull the screen out, and use it as needed. The screen has tactile leather tabs on each edge, for ease of use.
A child who knows their way around a smartphone better than the parent that bought it for them is not an uncommon sight, with the mind blowing statistic that
"65% of pre-teen kids, under the age of 13 own their own phone"
- Sellcell.com 
Technology has seemingly found its way into everyone's hands, no matter the way. Technology holds immense potential to educate, and getting it into the hands of our future is the catalyst to spark their interest in STEAM: Science, Technology, Engineering, Art and, Math.
Throughout our research, we consistently found that the active involvement of parents, teachers, and other mentors was a crucial factor in a young student's decision to get involved in STEAM activities and most importantly, move into STEAM career paths. We found that prolonged interest in STEAM was more common in instances where parents and mentors participated in joint learning and engagement with their students. Conversely, our research also found many barriers to adult involvement, such as parental concerns regarding online safety, technology addiction, and a lack of technological knowledge. These negative views often led to ignorance, dismissal, or restriction of a child's interest in STEAM, so it became clear that we needed to address them when designing.
INCLUSITIVITY
is essential. It is important in the world today as it provides equal opportunities for everyone, including those who might be excluded or marginalized.
In STEAM education, inclusivity seems to be lacking as many schools and communities do not have sufficient access or funding to provide a quality education. Additionally, there is an inadequate amount of representation for minorities and women within STEAM. With the clear lack of opportunity and representation, it becomes difficult for children 
to pursue a career in STEAM.
We visited one school during our initial research phase and the other during our final ideation phase. This helped us to solidify our understanding of kids within the age range and how they interact with each other and their learning environment.
After our classroom visits, we adjusted our target age range.
OUR TARGET AUDIENCE: 8-12 y/o
The initial target audience was kids from the ages of 10-14.
However, we proposed that the age range be lowered because our research showed that 
younger students are more willing to jump into new subjects and don't mind failing and learning in the process.
By 7th and 8th grade, students are aware of their abilities and are afraid of failure; if they already believe they are bad at math, they will not engage with a fun math project.
We furthered our exploration into understanding at what age students are most open to new topics and found that elementary schoolers (and younger) are the most impressionable. If a child is exposed to STEAM by the time they are in elementary school, we believe they have a better chance of pursuing it as a career. Our research agreed.
Affinitization & Opportunities
Affinitization is imperative to the design process. We took all the data points from every interview/observation activity and wrote them on individual sticky notes. Once on the sticky notes, we grouped them into categories with commonalities, then wrote a sticky that describes what that group is about. After repeating this process several times, we landed on our Key Insights, which led us to our design framework.
A series of around 30 prompt questions that related directly to our research findings were created. Everyone in the room created a concept for each prompt question, which rendered us with around 240 concepts from the initial workshop.
We visited an elementary school to user test our concepts and got very clear feedback. Kids have powerful imaginations and don't hold back. Each student wanted to build in their own space but share their creations with each other. 
Preparing our vision and presentation for key business executives and stakeholders